Once again, the Tubemogul team offers us an insightful report on the mechanics of online video views. Today, the team analyzed what were the main referrers that drive viewers to a video in an article titled How do people discover videos online?
The results are not outstandingly surprising. This chart summarizes the study: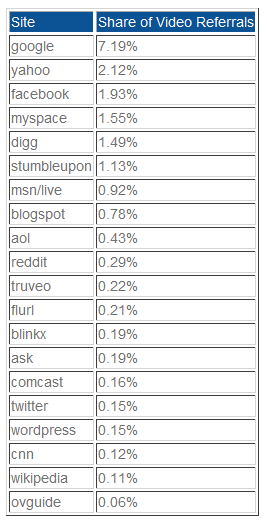 To make it clearer for everyone, David from Tubemogul puts it this way:
* Search engines: 11.18%
* Social networks: 3.66%
* Social bookmarking sites: 3.19%
* Video search engines: 0.63%
* Email/IM: 0.05%
* Everything else (almost all blogs, from the thousands we scanned): 80.88% of all referred traffic.
In other words, there isn't one definitive source that brings views. This actually makes a lot of sense: the myth of the skateboarding cat makes all the marketers drool, and they all want to replicate the same virality for their own company/client. Truth is that the real power of online video is the accessibility/affordability we have never seen before in the media space (a Youtube account is free, a blog is free, a FlipCam HD
is $200). Popularity is not a given.
After a video is online, it is the same phenomenon as when a blog post is published: It will be viewed if the blog is well connected to other social networks, if the post is optimized for search engine indexation, and if there is a wide choice of sharing options, then views happen.